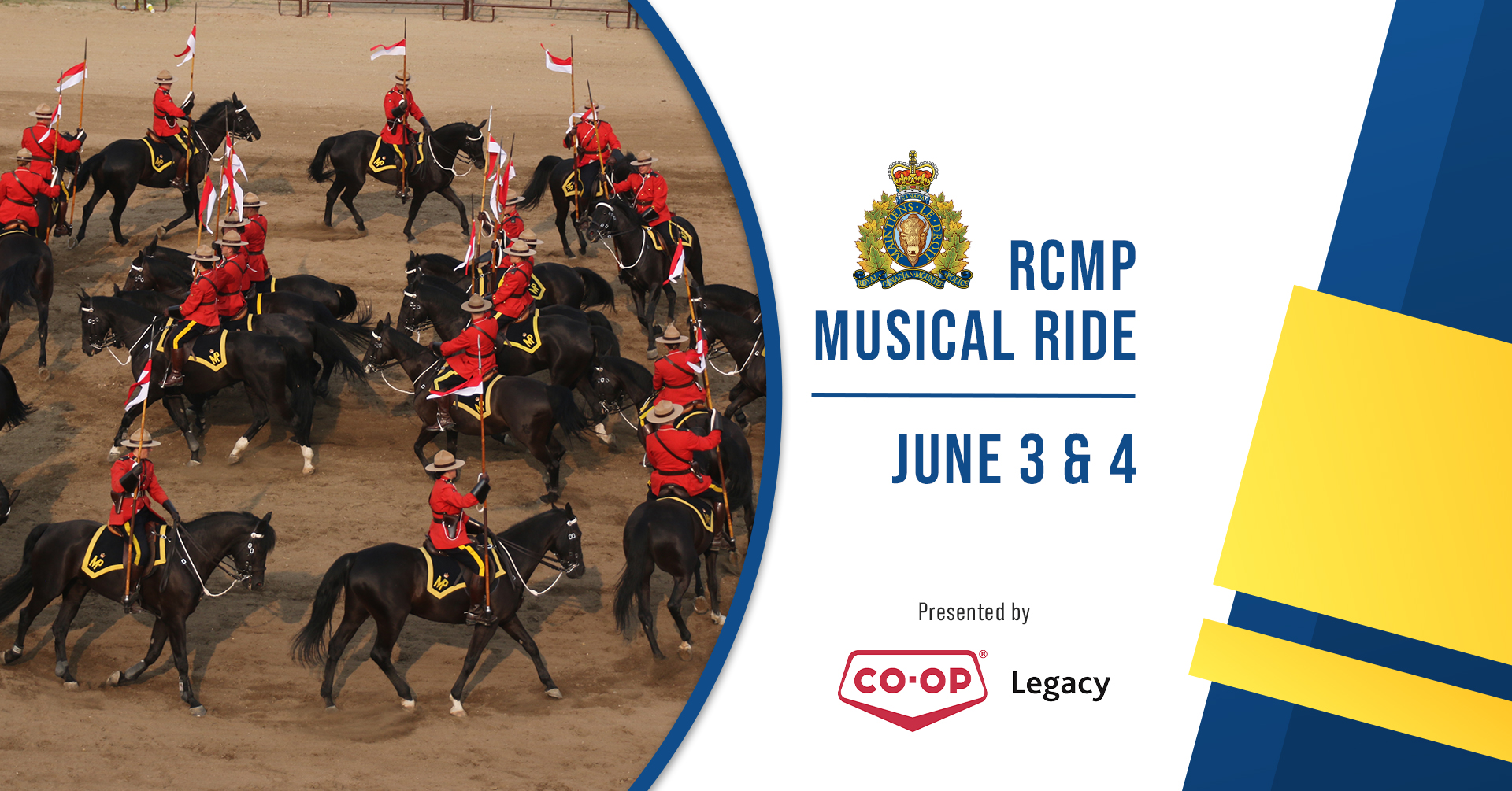 RCMP Musical Ride presented by Legacy Co-op
Experience the RCMP Musical Ride – the world-renowned troop of 32 horses and riders – on June 3rd and 4th as they perform at the Yorkton Exhibition Grounds in front of the new Legacy Co-op Grandstand.
A Canadian tradition since 1876, a troop of 32 scarlet-coated "Mounties" on majestic black horses will present a 30-minute show of intricate figures and cavalry drills choreographed to music. The show provides the public with an opportunity to experience the heritage and traditions of the RCMP and raise funds for local charities and non-profit organizations across Canada.
Members of the Musical Ride are first and foremost police officers. They all have at least two years of experience in active police work before volunteering for duty with the Musical Ride.  Surprisingly, most have no prior riding experience.
Showtimes
Friday, June 3rd at 6:00 PM

Saturday, June 4th at 2:00 PM

Saturday, June 4th at 6:00 PM
Tickets
Tickets are available at the Yorkton Exhibition Office or by calling 306-783-4800.
Adult (18 years & over) – $25

Youth (6 – 17 years) – $15

Child (5 & under) – FREE

Family (2 Adult & up to 2 Youth) – $70
Saturday, June 4th @ 2:00 PM (Musical Ride Only)
Adult (18 years & over) – $10

Youth (6 – 17 years) – $5

Child (5 & under) – FREE

Family (2 Adult & up to 2 Youth) – $25
Adult (18 years & over) – $25

Youth (6 – 17 years) – $15

Child (5 & under) – FREE

Family (2 Adult & up to 2 Youth) – $70
Weekend Pass (Friday & Saturday 6:00 PM Only. Includes CPCA Yorkton Classic)
Adult (18 years & over) $60

Youth (6-17 years) $35

Child (5 & under) FREE

Family (2 Adults & up to 2 Youth) $170
Cabaret (June 3rd and 4th at 9:00 PM)
Included in your Ticket

Purchase a Cabaret-Only Ticket for $10
Hourly Schedule
Friday, June 3rd
6:00 PM

RCMP Musical Ride
Saturday, June 4th
2:00 PM

RCMP Musical Ride
6:00 PM

RCMP Musical Ride